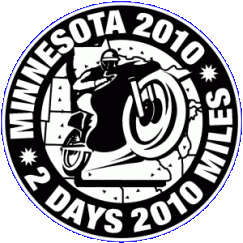 Minnesota 2010
June 17 - 20, 2010
The year 2010 marks a new decade and the ten year anniversary of a now legendary Team Strange event, the Minnesota 2000. We thought to ourselves, why not mark these milestones with another grand event? Therefore, Team Strange is proud to announce the Minnesota 2010 - Two Days, Two Thousand and Ten Miles.

Riders will most definitely not want to miss out on the Thursday night Liarís Banquet, to be held at Chateau Lamothe in Burnsville. Along with the fine food, a cash bar will be available for those interested. There are three hotels immediately adjacent to the banquet facility, and group rates will be available at one or more of these. Complete rally packs with all bonus information will be distributed at the end of the ridersí meeting after the Thursday night banquet. Yes, there will be photo bonuses, and digital cameras are now acceptable per Team Strange Uniform Rules. Polaroid photos will also be acceptable for those clinging to a stockpile of old film.

Once again, our great friends at Leoís South in nearby Lakeville have offered to host the start and finish of the rally. We can also reveal that, unlike the Minnesota 2000, there will be a mid-rally checkpoint for the Minnesota 2010, and that this checkpoint will be in Hill City, South Dakota, in the heart of the Black Hills. Yes, riders will be heading in a generally westerly direction next year. You might find yourself asking: How did that end up in North Dakota? Will the infamous Mother Featherlegs once again make her appearance on the route sheet? Will the snow have melted by then at that altitude? Is it June yet?

Riders will of course also receive the usual rally swag: a very nice rally shirt, rally stickers, official rally mug plus an excellent breakfast at the finish. For riders who have never had the opportunity to ride an event longer than 24 hours, here is your chance. For those lucky enough to have drawn a spot in the Iron Butt 5000, what better way to hone your skills? Donít miss out on your opportunity to be one of the ninety riders writing a new chapter in Team Strange history.

(Entries closed)
Back to TeamStrange
Last updated: 26 February, 2012