2022 Grand Tour of Minnesota

The Grand Tour of Minnesota (GTMN) was inspired by the Grand Tour of Georgia. The purpose of the GTMN is to give riders an excuse to go out riding.
The 2022 GTMN consists of 20 bonus locations within Minnesota. The bonus locations were chosen, in part, to try and provide a varied and scenic riding experience. Here is a sneak peek of where you'll be heading (click for larger image):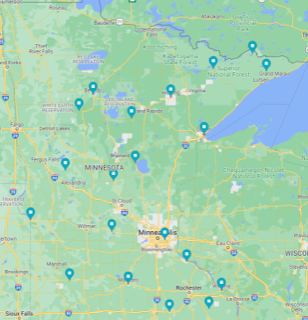 Entry fee: $35. Includes bonus location passport and GTMN stickers. A "Finishers" sticker will be provided to those who successfully finish the tour.
T shirts will be available by direct order, additional details will be available at a later date.
Rules:
All bonuses must be visited between 05/01/2022-10/31/2022 to be considered a finisher of the GTMN.

The front of your Grand Tour passport must be visible in each bonus photo. While not required, it would make us very happy if you also included your motorcycle in the photos.

Photos must be received by 11/30/2022. You may submit the photos all at once, or as you collected
them. Submit photos to grandtourmn@gmail.com
More info on the Facebook Page